At the recent CLA Summit, there was a lot of talk about collaboration particularly about open source projects hosted on sites such as GitLab. I'm proud to announce that the AF Tester project that I've showcased in some of my recent presentations is now available on GitLab as an opensource project.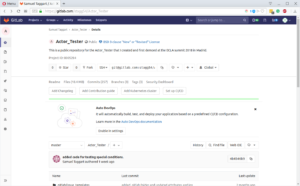 What does that mean? That means that you can download the source code, report issues, and even help to fix issues or add new features. If you want to know more about how to do that, James McNally wrote a nice blog post about contributing to open source projects. You can find it here. Also, Derek Trepanier and Matt Harrison did a very nice presentation at the CLA Summit this year. It was videotaped, but I haven't seen it posted anywhere yet.
So far Jeff Siegel has found a few bugs, some of which have already been fixed. Some others are in progress. Come check out the Gitlab page to see all the latest developments and get the latest version of the AFTester.