NI Week - Why all the hype?
Today is the first day of NI Week 2019. What is NI Week? It's only the largest gathering of LabVIEW enthusiasts in the world! My friend John jokingly refers to it as something akin to a Star Trek Convention. Granted there is a bit of geekiness going on there, but since when is that a bad thing?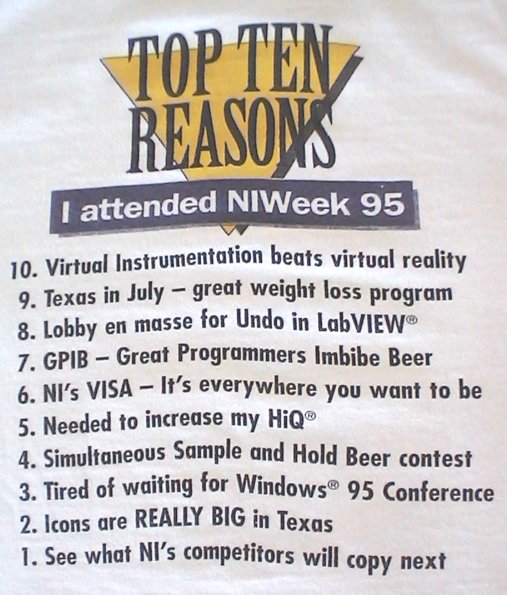 My friend Rollin put together a great flowchart that really does a great job of explaining his calculations on the benefits of NI Week. I thought I would just elaborate a little and add my own thoughts.
Here are my reasons for going to NI week:
Community – NI Week is a great place to connect with like-minded people. People are very friendly and outgoing and there are plenty of opportunities to be social and mingle. I have built some amazing friendships there.
Learning – NI Week presents an enormous opportunity to learn some new LabVIEW tips and tricks from all the LabVIEW Champions in the SEPAD Track. You check out all the SEPAD sessions here. There are also some classes being offered as well.
Staying up to date – NI uses NI week to promote it's newest products, but there are also a ton of vendors in the Expo Hall showing off their latest wares as well. It's an opportunity to see what's out there. I really hate reinventing the wheel so I'm always paying attention to what is already out there in case it might come in handy in the future.
Marketing – Presenting at NI week is great thing to add to your resume. It helps to build your brand and establish yourself as an expert. Plus it's just a good way to contribute to the community.
Business Development – NI Week is full of engineers, scientists, LabVIEW users, managers, and business owners. It' can be a great place to meet and network with potential clients.
Here's a video that NI put together of a few familiar faces and what they have to say about NI Week.
If you are at NI week and want to meet up, send me a message on Linkedin (I should be checking it fairly often) or drop by my presentation Thursday morning. I'll also be at the LAVA BBQ on Tuesday Night. If you don't have tickets yet, it is not too late. Get them here.